ABOUT OUR SQUEEZES…
At Stampede Steel we focus on developing equipment that is safe for the handler as well as for the livestock. Our equipment works with the natural tendencies and instincts of the animal. Noise reduction is one such focus; the quieter the equipment the easier and less stress will be put on the cattle and the handler. "Blinder" kits create a tunnel like environment that the cattle naturally want to move through while keeping the operator to the side of out of sight and mind. The body of our squeeze is the same on all our chutes, whether it be our self-catch or hydraulic. This parallel axis body design opens from 32" and will close to 9" to accommodate any size animal from 200 lb calf to a 3000lb bull. All squeezes can be made portable with our trailer unit.
STAMPEDE STEEL SECOND GENERATION HYDRAULIC SQUEEZE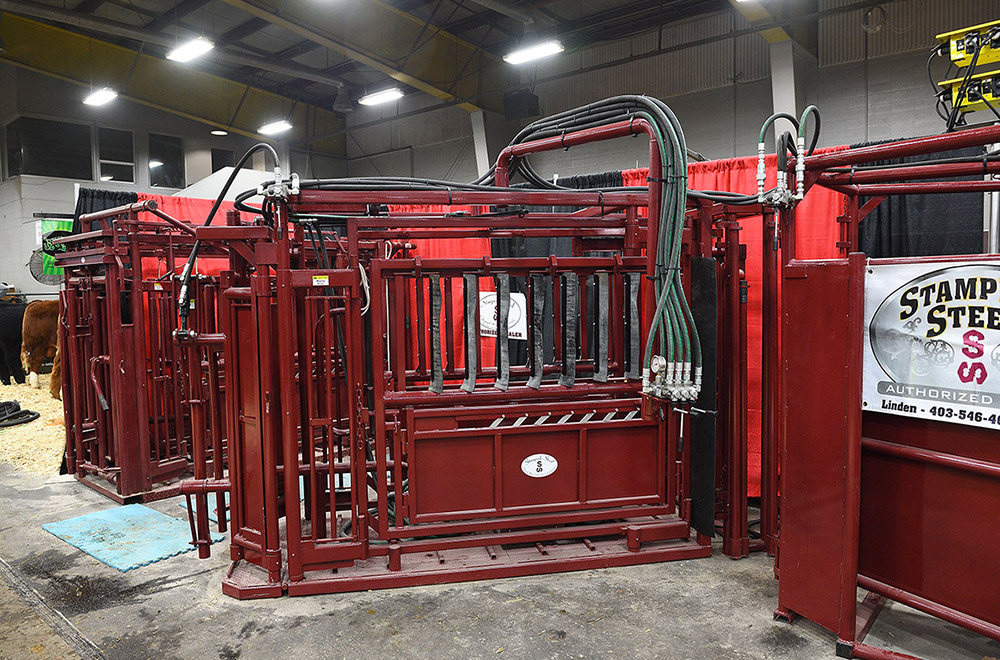 Stampede Steel hydraulic cattle squeezes are designed for the large cow/calf or feedlot operator. Equipped with a rubber-cushioned head gate to reduce shoulder bruising, as well as our state-of-the-art bifold action head gate. The head catch is completely parallel from top to bottom, virtually eliminating choking hazards. The chute comes equipped with six neck injection access sites and the option for neck extender bars.
SECOND GENERATION 2K SELF CATCH SQUEEZE- ITEM# SS50012DE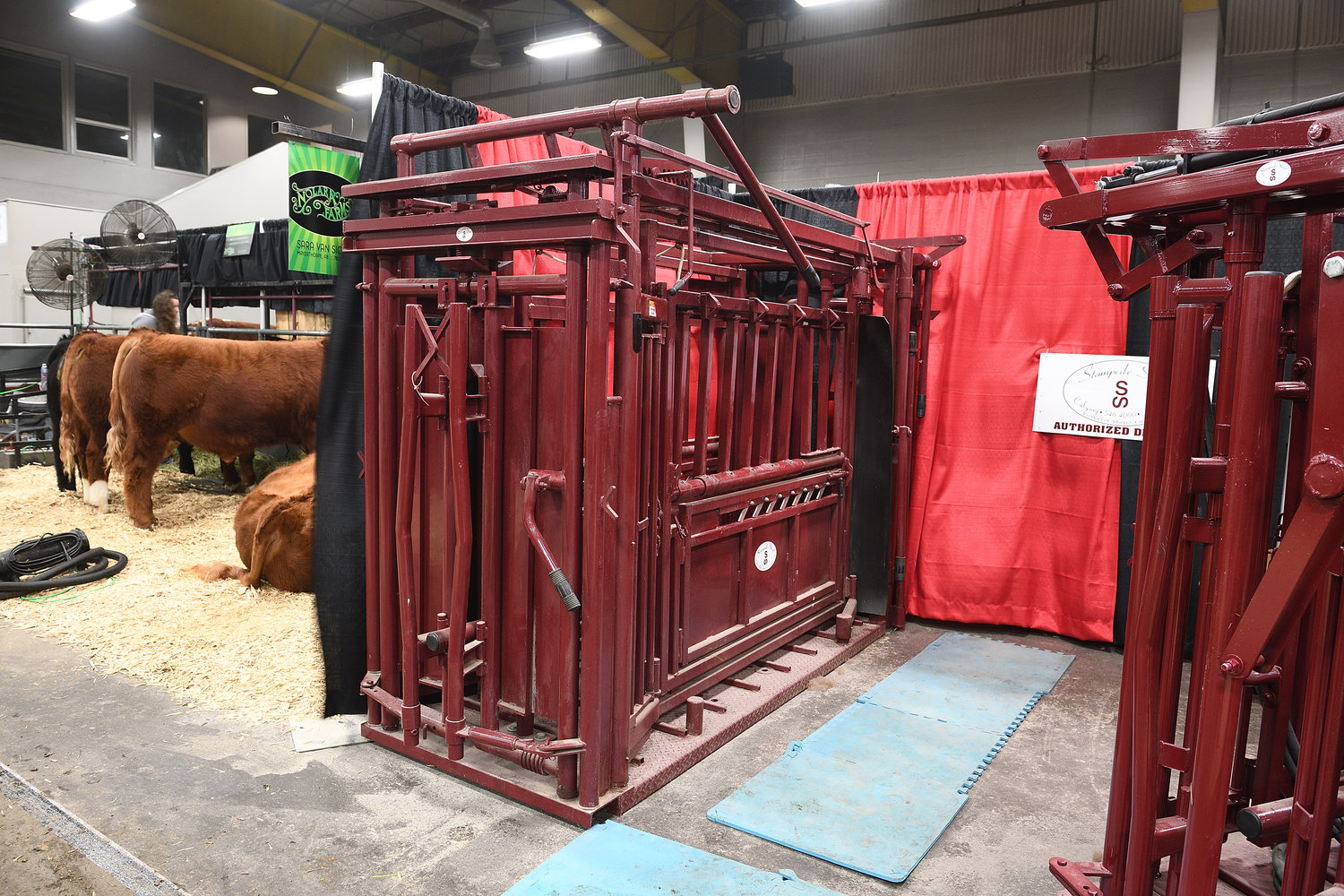 Our Second Generation Self Catch Squeeze comes with Stampede's state of the art Head Gate. We have taken an old concept and brought it into the new millennium! This Head Gate is all positive acting, which means there are no cables and no hassle! We are now able to run our head gate completely from the rear of our squeeze. This keeps the handler or squeeze operator out of the flight zone of the animal and puts the cattle in the comfort zone, which in turn will not inhibit the flow of cattle. Our Second Generation 2K comes equipped with a self- catch head gate, which is outfitted with our head restraining neck extenders, making implanting, neck injections, tagging as well as any eye work easier. Stampede Steel's head gates are renowned for keeping the animals head from moving side to side. Neck injection doors, along with shoulder restraint bars make for a safe, efficient, chute to get the job done. This squeeze also comes with our inline bifold door, which is the most advanced noise reducing, heavily constructed tailgate on the market. The vertical bars of the bifold door slow cattle when needed, but still allow the cattle behind to see the next animal leave so as not to stop the flow of the system. The body of the squeeze is a parallel axis body that opens to 32" and closes to 9" accommodating calves to bulls.
SELF CATCH SQUEEZES
SS 2ND GENERATION 2K DOUBLE EXIT
SS/WW Deluxe 2K
Double Dutch Squeeze
2-K Self Catch Head Gate
HYDRAULIC SQUEEZE CHUTES
SS/WW Hydraulic Double Dutch
SS/WW Hydraulic Double Dutch c/w
Overhead Pivot Arm
SS Second Generation Hydraulic Squeeze
Base Model c/w: Double Exit Sides, 3 HP Power Pack, Grooming Bars
LH or RH Controls, Ratchet Bar,Rear Blinders, 20 litres ATF OIL.
ADDITIONAL OPTIONS FOR SS 2ND GENERATION HYDRAULIC SQUEEZE
Neck Extenders (Installed)
Hoses to Power Pac, Bifolds, Alley x 2 / ft.
Overhead Pivot Arm
Hydraulic neck bender(Installed)
Additional Valves w Lever (installed) per valve
Top Mount Power Pac
Upgrade to 5HP Power Pac
Side Blinders (Installed)
Brisket Bar (Installed)
Hydraulic Bifold Door (1 Ram)
Overhead Hyd. Scale Unit c/w Ram/Valve-Hoses
Hyd 3 Way Sort c/w 2 rams,2 spool valve (NO HOSES))
Hyd 3 Way sort C/W 2 – 3′ Gates
Hydraulic 5HP Motor Power Pack
Hydraulic 3HP Motor Power Pack
Hydraulic Headgate c/w cylinder