WELCOME TO STAMPEDE STEEL AND OUR LINE OF INNOVATIVE FARMING AND RANCHING EQUIPMENT.
At Stampede Steel we are committed to — and proud to be a part of — the North American cattle industry. We design and build effective, efficient livestock handling systems to meet the specific demands of any operation.
Our products are designed by cattlemen, for cattlemen. Safety, efficiency, and pressure-free handling are what we know, and what we provide. Our products, methods, and equipment are constantly improving, and everything we build and sell is backed by an limited warranty.
Our customers are ranchers, farmers, research and educational institutions, grazing leases, national parks and zoos.
Natural animal behaviours and habits guide every project we take on and every product we build.
Through our alliance with Oklahoma firm WW Manufacturing, Stampede Steel products are available throughout the USA, within the exclusive manufacturing and distribution network of WW.
North of the border, Stampede Steel markets the WW product line across Canada and we handle US customers that are looking for products not available through WW. Check out our complete product line and contact us for current pricing and availability.
To locate a Dealer in your area, please click on Dealers.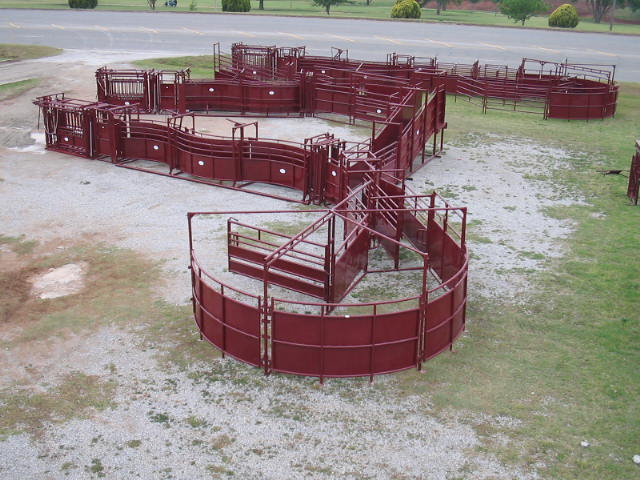 WHY STAMPEDE STEEL?
This may be a question you ask yourself before making your next major purchase of cattle handling equipment. We at Stampede Steel, manufacture a diverse line of cattle handling equipment. You may wonder, "What makes Stampede Steel different in the market place?" Well, ask yourself these questions.
Have you ever:
Had to work your cattle alone?
Had your cattle turn on you in the alleyway?
Had a bull or cow that did not fit in your Squeeze?
Wished you could nurse a calf in your squeeze chute?
Implanted or ear tagged and wished you had a way to restrain the animal's head ?
Had cattle turn backwards on you in the tub and get wedged in the "V"? Which meant you had to open the tub door, so the animal would turn, towards the alley.
When feeding your cattle have you looked at all the hay around the feeder and thought what a waste of money??
If you have answered YES to any of these questions, then you need to talk to us at Stampede Steel! Our equipment is designed to work with the natural instincts of cattle as well as efficiency for the cattle handler!
We have designed cattle equipment that one person can operate from the back of the working area! This alone sets us in the forefront of the industry! By being able to run the squeeze chute from the back we can stand out of the flight zone and in the comfort zone of the cattle… this allows the cattle to flow smoothly through the system with minimal hesitation. The need for multiple people in the handling area is no longer a necessity!
Our equipment is built heavy, and user friendly so you will get many years of use out of your dollar. We, at Stampede Steel Mfg. are not just manufacturers we are Cattlemen and Ranchers as well. We understand the need to handle our cattle quietly and safely! By being as involved in the industry as we are, we realize the value of a dollar, and the need to stretch it as far as possible! This is why we have developed the equipment as we did. More value for your buck! We are constantly listening to fellow producers, who bring us new ideas that better our equipment. These are the reasons why we are staying in the forefront of our industry.
By bringing new concepts to our forever changing industry, we are able to offer the producer new and improved ways of handling cattle. In an industry that has been around for centuries, we have taken older concepts and brought them to the new millennium.
At Stampede Steel Mfg. all we ask is for the chance to speak with you and offer our comments and expertise. You will find that we at Stampede, are manufactures of steel products and our strength is in our personnel and their pride of workmanship! Let SS help you handle your cattle more efficiently and safely.